Coding & Reimbursement Specialist - Health Information Technology Certificate
Become a Certified Coding Specialist with our Health IT Certificate program. Unlock your healthcare career.
About the Program
Coding and reimbursement specialists play a crucial role in healthcare organizations. Their expertise in coding accuracy directly affects revenue for facilities and practitioners, and it contributes to informatics related to health outcomes.
These professionals possess a diverse skill set that includes clinical knowledge, information technology, leadership, management, compliance with legal regulations, and coding and reimbursement expertise.
Graduates from this program have various career options in healthcare and beyond, including insurance companies, healthcare software companies, pharmaceutical companies, government agencies, and academic institutions.
The program focuses on teaching ICD-10-CM/PCS and CPT/HCPCS coding guidelines, reimbursement systems, and revenue cycle management.
Successful students can take a national examination to become a Certified Coding Associate (CCA). After gaining two to three years of recommended coding experience, graduates are eligible to sit for the national Certified Coding Specialist (hospital-based CCS or physician-based CCS-P) examination.
The Coding and Reimbursement Specialist Certificate program is approved by the American Health Information Management Association (AHIMA) under the Professional Certificate Approval Program (PCAP).
Program Details
Our program teaches coding, compliance, and healthcare leadership. Start a rewarding career.
After successfully completing this program, you will have the ability to:
Use data management skills to verify health records are accurate, reliable, comprehensive and compliant.
Apply legal regulations for the management, control, and disclosure of protected health information.
Evaluate, select, serve as a resource for implementation, and utilize applicable information systems.
Identify reimbursement systems by health care setting, describing their structural design and evaluate revenue cycle management processes.
Analyze policies and procedures related to health information management to ensure medical, legal and ethical compliance.
Provide leadership and management skills to the organization when working with human, financial and physical resources.
 
See program prerequisites and details in the catalog. Get started on your healthcare journey!
Discover the path to your coding specialist career. Check the catalog for program specifics.
The applicant pool for programs in the School of Health Sciences is very competitive. An application does not mean acceptance into the Health Sciences program. Applicants are required to meet with a School of Health Sciences advisor before they apply to a program and may be required to attend an orientation for the Allied Health-related programs. All application correspondence from the School of Health Sciences will be through your TCC email.
In our program, you will examine ICD-10-CM, ICD-10-PCS, CPT and HCPCS coding guidelines in detail, as well as other classification systems and terminologies, revenue cycle management, reimbursement systems, (i.e., Medicare Severity Diagnosis Related Groups, Ambulatory Patient Classification, Resource Based Relative Value System, Resource Utilization Groups, Case Mix Groups, and Home Health Resource Groups), and compliance issues.
Graduates of the Coding and Reimbursement Specialist Certificate Program may apply to take a national examination to become a Certified Coding Associate. After 2-3 years of recommended coding experience, you may take the national Certified Coding Specialist examination.
The TCC Coding and Reimbursement Specialist Certificate Program is approved by the AHIMA Professional Certificate Approval Program (PCAP). The approval period is from Nov. 30, 2021 – Nov. 30, 2024.
This designation acknowledges the coding program as having been evaluated by a peer review process using a national minimum set of standards for entry-level coding professionals.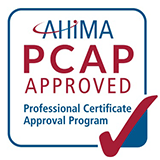 Additional information regarding the accreditation process, certification, and/or the health information management coding profession may be accessed by visiting the AHIMA Professional Certificate Approval Program.
| Year | Graduation Rate | Employment Rate | Certification Exam Pass Rate |
| --- | --- | --- | --- |
| 2019-20 | 86% | 75% | 100% |
| 2020-21 | 100% | 100% | 100% |
Careers in Coding & Reimbursement
Don't miss out on the opportunity to connect with our Career Services professionals. Schedule a session now to explore the comprehensive range of complimentary resources available for career planning and job preparation.
Connect with Career Services
Contact
Admission Counselor
You Can. We'll Help.
Reach out to our Admission Counselors to begin your educational journey. Get personalized support and take confident steps toward a world of academic opportunities.
Meet Your Admission Counselor