TCC is one of the most affordable schools in Oklahoma for earning associate degrees and certificates. Financial aid, veterans benefits, and scholarships can help cover tuition and fees, and course materials. TCC also has different payment methods available to students.
Cost Comparison of the First Two Years
TCC offers high-quality education with an affordable cost of attendance compared to other colleges and universities.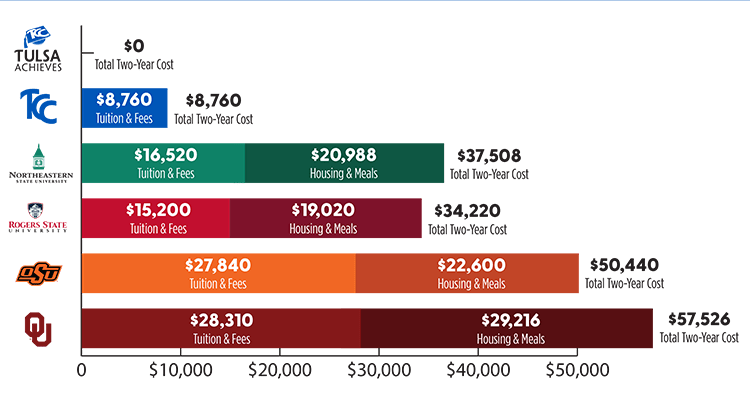 | School | Two-Year Tuition & Fees | Two-Year Housing & Meals | Total Two-Year Cost |
| --- | --- | --- | --- |
| TCC with Tulsa Achieves Scholarship | $0 | $0 | $0 |
| TCC | $8,760 | $0 | $8,760 |
| Northeastern State University | $16,520 | $20,988 | $37,508 |
| Rogers State University | $15,200 | $19,020 | $34,220 |
| Oklahoma State University | $27,840 | $22,600 | $50,440 |
| University of Oklahoma | $28,310 | $29,216 | $57,526 |
Understand the Full Cost of Attendance
TCC's lower cost of tuition is among the reasons many students choose to attend, but it is important for students to understand the full cost of attendance, beyond just tuition.
The cost of attendance is what the College estimates it will take for you to attend TCC for one year, including direct and indirect expenses.
Direct: Costs associated with going to school like tuition, fees, books, and supplies.
Indirect: Costs associated with living, such as room and board, personal expenses, and transportation. Loan fees, if applicable, are included in indirect costs.
The cost of attendance is also important for financial aid recipients because it is used to determine their financial aid eligibility. It is the maximum the college can award you in the various types of financial aid.
If Your Expenses Go Beyond Your COA
If you have expenses beyond those incorporated into the cost of attendance (COA), we may be able to increase your COA and award additional aid (usually additional student loans if you have not already met the yearly limit). 
Call 918-595-2000 and ask to speak to a financial aid representative to begin this process.
2023-2024 Cost of Attendance
Your personal cost of attendance can be accessed through the Financial Aid and Scholarships Dashboard.
The figures provided represent average costs for comparing attendance expenses. However, the actual cost of attendance may vary depending on individual circumstances. These estimates are based on full-time enrollment for both Fall 2023 and Spring 2024, with 12 credits per term, totaling 24 credit hours for the academic year.
The listed expenses make up an average student's total cost of attendance. Depending on your situation, some or all of these expenses may be reflected in your personal cost of attendance. If you are enrolled in 5 credits or less (less than half-time), not all expenses shown will be reflected in your cost of attendance.
| 9 Month Expenses | Living At Home | Living Off Campus |
| --- | --- | --- |
| Tuition | 2,976 | 2,976 |
| Fees | 792 | 792 |
| Books & Supplies | 1,848 | 1,848 |
| Room | 5,278 | 10,557 |
| Board | 1,495 | 2,778 |
| Personal Expenses | 840 | 840 |
| Miscellaneous | 864 | 864 |
| Transportation | 1,392 | 1,392 |
| Loan Fees | 136 | 136 |
| Total | $15,621 | $22,183 |
| 9 Month Expenses | Living At Home | Living Off Campus |
| --- | --- | --- |
| Tuition | 8,928 | 8,928 |
| Fees | 792 | 792 |
| Books & Supplies | 1,848 | 1,848 |
| Room | 5,278 | 10,557 |
| Board | 1,495 | 2,778 |
| Personal Expenses | 840 | 840 |
| Miscellaneous | 864 | 864 |
| Transportation | 1,392 | 1,392 |
| Loan Fees | 136 | 136 |
| Total | $21,573 | $28,135 |