Academics
What do you want to do? What do you want to be? TCC has options for your future, ready today.
Discover Excellence with Honors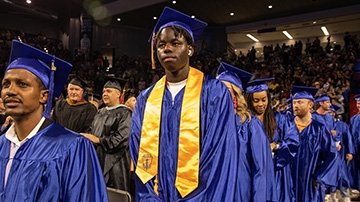 At TCC, we believe in nurturing brilliance, fostering innovation, and empowering aspiring scholars. Our Honors Programs are designed to provide an enriched academic experience, cultivating a community of motivated learners ready to conquer the challenges of tomorrow.
Explore Your Potential with Honors
Ready to take your academic journey to the next level? Seize the chance to excel academically and pave the way to a bright and successful future.
Honors Program
Teaching is in her blood. Learn why Emily Quinn enjoys the challenge of helping students gain an appreciation of, if not a love, for math.
Tulsa Community College hosted the Oklahoma Association of Community Colleges 56th Annual and Support Staff Conference in early October with faculty, support staff, and professional staff from 12...
A Navy veteran, Dr. Ted Ward teaches Computer Science and Programming at TCC. But on the weekends, you just might find him playing drums in a local band.
Contact
Academic Advising