Respiratory Care, A.A.S.
Save lives with a degree in Respiratory Care. Learn to care with compassion.
About the Program
This program centers on patient care, particularly in emergency situations. You will learn to provide compassionate care at its core.
The Respiratory Care Program's goal is to prepare graduates who excel in knowledge, skills, and behavior within the field. These graduates can become registered respiratory therapists (RRTs).
If you thrive in a fast-paced environment that demands both technical and interpersonal skills, this program is tailored for you.
Respiratory Care is a specialized healthcare field that encompasses preventing, diagnosing, treating, managing, and rehabilitating patients with lung disorders.
As an advanced respiratory therapist, you will be involved in life-saving situations, collaborating with doctors, nurses, and other healthcare professionals. Your expertise will be in high demand.
Graduates are eligible to apply for the National Board for Respiratory Care (NBRC) Certification and Registry Examinations. This certification is essential for licensure in most states regulating respiratory care.
Program Details
Discover the Respiratory Care A.A.S. program. Life-saving skills in two years.
Employment demand for Respiratory Therapists is expected to grow by 12 percent by 2024, according to the U.S. Bureau Labor Statistics, faster than other occupations. An increasing elderly population and advances in respiratory treatments are expected to drive the job market for Respiratory Therapists at hospitals, health care service providers and physician offices.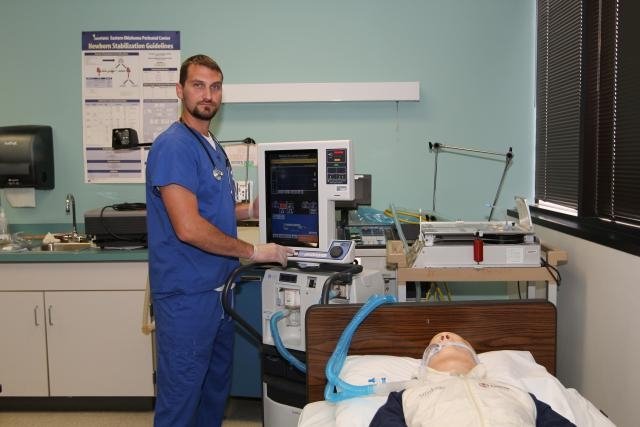 TCC's Respiratory Care Program generally accepts 25 students each year beginning in the fall term. Application deadline for admittance to the program is April 15 of each year. Applicants who have completed Human Anatomy and Physiology will be interviewed in March or April by respiratory care program faculty. Selection is determined from a point system based on the applicant's overall GPA, GPA in math and science courses, ATI TEAS composite score, ATI TEAS math and reading score and on the interview. Applicants with more math and science courses will be more highly considered for acceptance into the program.
The Respiratory Care Program is a two-year, five-term, full-time day program consisting of specialized courses offered in a specific sequence. To prepare graduates with demonstrated competence in the cognitive (knowledge), psychomotor (skills), and affective (behavior) learning domains of respiratory care practice as performed by registered respiratory therapists (RRTs). Respiratory Care program courses are offered in the daytime only. General education courses may be taken prior to being accepted into the program to lighten course loads. Human Anatomy and Physiology is a prerequisite course that must be taken prior to acceptance into the program. Your course of study will include all aspects of respiratory health and respiratory care techniques, as well as hands-on clinical experiences.
When you graduate from our program you will be awarded an Associate Degree in Applied Science and eligible to apply for the National Board for Respiratory Care (NBRC) Certification and Registry Examinations. The NBRC states "The first examination for earning the RRT is the Therapist Multiple-Choice (TMC) Examination (prior to January 2015, it was known as the Written Registry Examination). The TMC Examination evaluates the abilities required of respiratory therapists at entry into practice and determines eligibility for the Clinical Simulation Examination (CSE). The CRT and/or RRT credentials are used as the basis for the licensure in all 49 states that regulate the practice of respiratory care. There are two cut scores for the TMC Examination. If a candidate achieves the low-cut score, he or she will earn the CRT credential. If a candidate achieves the high cut score, he or she will earn the CRT credential and become eligible for the Clinical Simulation Examination (provided the candidate is eligible to earn the RRT credential)."
After successfully completing this program, you will have the ability to:
Apply knowledge, understanding, and troubleshooting skills to respiratory therapeutics in all patient settings.

Evaluate a patient in all settings and recommend proper diagnostic tools.

Communicate effectively with all team members and patients, recognizing diverse needs and employing methods of compassionate care.

Uphold standards of ethics, safety, infection control, and proper documentation across all settings.

Use evidence-based practices to create patient care plans based on individualized and diverse needs.

Manage and troubleshoot respiratory care equipment across all patient settings.
Explore program requirements and start your journey.
Plan your path to success with our program map.
Testing Requirements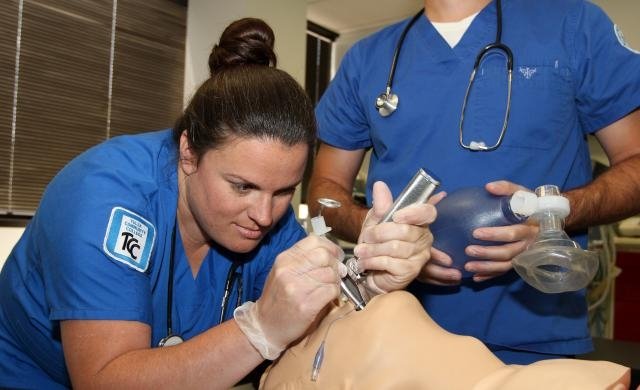 Before applying for the program, all students must take the ATI Test of Essential Academic Skills (TEAS) exam. This exam is offered multiple times per application period. There is a $82 charge for this exam from the testing company.
The ATI TEAS is administered in a remote proctored environment. Testing will be proctored by TCC faculty/staff and all established testing protocols will be strictly enforced.
Testing and Results
Create your ATI user account
Select Tulsa CC AH for Institution
Sign in using your ATI username and password
Select Online Store at the top of the page
Under Register for… along the left column, select TEAS
Select TEAS for ALLIED HEALTH on the Program Type drop down
Select Country (USA), State (OK), and City (Tulsa) from the drop down
Select a test date and time
Select Register
Select Check Out to complete your registration
Pay the testing fee ($82)
Check for confirmation email from ATI
Testing Policy
Test results must be no more than two years old at the application deadline.
Student may take the exam no more than three times in a 12-month period.
Students are required to wait 30 days between each attempt.
Additional Information
ATI/TEAS test dates and times are listed on the ATI website.
You must attach the "Individual Performance Profile" results page to your TCC Respiratory Care program online application.
Apply to the Program
The applicant pool for programs in the School of Health Sciences are very competitive. Application does not mean acceptance into the Health Sciences program. Applicants are required to meet with a School of Health Sciences advisor before they apply to a program and may be required to attend an orientation for the Allied Health related programs. All application correspondence from the School of Health Sciences will be through your TCC email.
Respiratory Care Essential Functions/Technical Standards
Selection Process
A selection committee reviews all applications. Qualified applicants will be granted an interview with the Respiratory Care Program faculty. Qualified applicants are then ranked from the highest to the lowest score according to an established point system. The top applicants are selected for the next fall semester.
The selection criteria are based on the following:
Cumulative GPA (2.5 or greater)
High School GPA (if less than 12 college credit hours)
ATI TEAS Composite Score of 60
ATI TEAS Math score of 55 and Reading Score of 60
The Respiratory Care Program at Tulsa Community College is nationally accredited by the Commission on Accreditation for Respiratory Care (CoARC). Our program number is 200146.
TCC Respiratory Care, A.A.S.
Estimated Program Costs

| Cost | Amount |
| --- | --- |
| Tuition | $7,991.05 |
| Admission Fee | $20.00 |
| Facility Fee | $142.00 |
| Library Fee | $195.25 |
| Remedial Fee | $923.00 |
| Student Assessment Fee | $106.50 |
| Technology Fee | $568.00 |
| Cultural and Recreational Service Fee | $88.75 |
| Parking Fee | $90.00 |
| Student Activity Fee | $365.65 |
| Student Center Fee | $518.30 |
| Student ID Card | $5.00 |
| Course Lab Fees | $108.00 |
| Drug Screening Fee1 | $50.00 |
| Criminal Background Check1 | $49.00 |
| Immunization Tracking Service Fee1 | $35.00 |
| Student Malpractice Insurance Fee1 | $26.00 |
| Clinical Software1 | $104.00 |
| Clinica Tracking Fee1 | $130.00 |
| NBRC Review Fee1 | $295.00 |
| Pinning Ceremony1 | $50.00 |
| CPR Training1 | $65.00 |
| Estimated Textbook Costs1 | $1,640.00 |
| Total | $13,565.50 |
Cost is specific to each student and/or varies due to the nature of the associated cost.
1Allied Health Specific Fees
Program Goal
To prepare graduates with demonstrated competence in the cognitive (knowledge), psychomotor (skills), and affective (behavior) learning domains of respiratory care practice as performed by registered respiratory therapists (RRTs).
Program Outcomes
CoARC accredits respiratory therapy education programs in the United States. To achieve this end, it utilizes an 'outcomes based' process. Programmatic outcomes are performance indicators that reflect the extent to which the educational goals of the program are achieved and by which program effectiveness is documented. Learn more about CoARC Programmatic Outcomes Data.
Careers in Respiratory Care
Don't miss out on the opportunity to connect with our Career Services professionals. Schedule a session now to explore the comprehensive range of complimentary resources available for career planning and job preparation.
Connect with Career Services
Contact
Admission Counselor
You Can. We'll Help.
Reach out to our Admission Counselors to begin your educational journey. Get personalized support and take confident steps toward a world of academic opportunities.
Meet Your Admission Counselor