International Admission
Unlock global opportunities at TCC! Explore our International Admission program for a diverse and inclusive educational experience.
Dreaming of studying in the U.S.? TCC is your welcoming gateway for international students like you.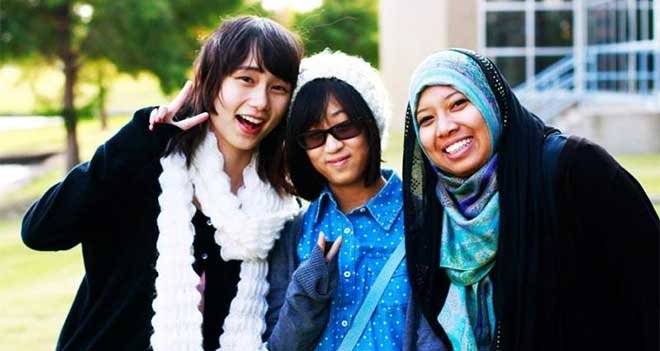 At TCC, we embrace diversity and welcome students from all corners of the globe. Our academic programs are top-notch and won't break the bank! We've got flexible course schedules and personalized support to make your educational journey a smooth ride. Plus, credits from TCC transfer to universities across the U.S.
Affordable Programs and Scholarships
We offer scholarships to incoming, first-year, and second-year students, making education accessible. Our tuition and hourly fees are budget-friendly, around $142 per credit hour for resident visas and $367 per credit hour for non-resident visas, including F-1 students. As a result, a full-time semester (12 credit hours) for non-resident visas typically totals approximately $4,500, excluding book costs.
Admission & Form I-20 Application Process
Students may start their applications as early as 120 days before the semester begins.
Step 1: Apply to TCC
Apply for Admission at TCC.

Download the TCC Form I-20 for F-1 Visa and seeking students. Send your completed Form I-20 to iss@tulsacc.edu before the semester's submission deadline.

TCC Form I-20 Submission Deadlines

| Applicant Type | Fall Semester Deadline | Spring Semester Deadline | Summer Semester Deadline |
| --- | --- | --- | --- |
| Outside the United States | July 15 | December 10 | n/a |
| Transfer within the United States (International Transfer Admission Video) | August 12 | January 7 | May 27 |

If English is not your official language at the time of high school graduation, you need to take an English proficiency test: IELTS, TOEFL IBT, TOEFL TCC paper-based.
Step 2: Receive the Form I-20
Within two business days of reviewing your complete Form I-20 with necessary documents, we will email your admissions packet, which includes:
Official Admissions Notice.
Initial Attendance Form I-20.
Information on Mailing Provider Options: Select a provider and pay the mailing fee. After receiving confirmation of your payment, your admissions packet will be mailed to you.
Step 3: F-1 Visa Interview Preparation
Take your admissions packet to the U.S. consulate or embassy in your home country.
Pay your I-901 SEVIS fee, required before your visa interview.
Schedule an appointment for your visa interview at the U.S. consulate or embassy in your home country.
Prepare for Your Interview and bring your entire admissions packet to your visa interview.
Step 4: Arrival in the U.S. and Enrollment at TCC
Upon receiving your F-1 Visa, please email us at iss@tulsacc.edu so that we can plan for your arrival.
When you enter the U.S., show the immigration officer:

Your Form I-20.
Your passport with a valid F-1 Visa.

After arriving in Tulsa, Oklahoma, within one business day:

Check in with our International Student Services Office and provide your F-1 Visa and Form I-20.
We will guide you on the steps you need to take to get enrolled in classes.
Resources for International Students
Contact Us
International Student Services Office
Monday – Thursday: 9 a.m. – 6 p.m. 
Friday: 10 a.m. – 5 p.m.
TCC Northeast Campus 
3727 E Apache St, Tulsa, OK 74115 
Student Union, Room 110
Virtual: Zoom Meeting Room 
Email: iss@tulsacc.edu 
Phone: 918-595-7478