The TCC Board of Regents approved the College's 2021-2025 Strategic Plan: Building Success Through Education in April 2020.
Built upon the foundation of the College's mission, vision, beliefs, and values, the Strategic Plan is a values-based plan. It allows the College to embrace who we are, and it ensures every employee can contribute to the College's success.
The Mission Metrics, or Key Performance Indicators Scorecard, helps us measure and monitor our progress. One of our key initiatives for the Academic Year 2023 and beyond is participation in the Aspen Institute and CCRC's Unlocking Opportunity Network.
We All Impact Student Success!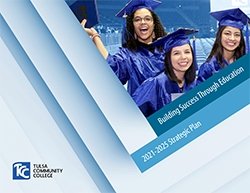 Status Report