The TCC Common Book Program serves as a shared learning opportunity for thousands of students at the College, particularly those who are new to college life.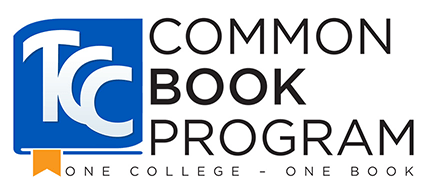 It's an integral part of the College Success COLL 1003 curriculum and aims to initiate conversations and interactions from various perspectives, fostering the growth of informed and active citizens.
Our 2022-24 Common Book
Braiding Sweetgrass by Robin Wall Kimmerer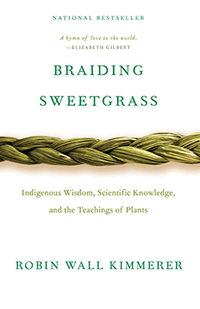 ---
"Three words from TCC's Beliefs and Values are rigorous, diverse, and sustainable. Braiding Sweetgrass exemplifies all three. Kimmerer's prose is profound. Her background as a research biologist is clear on every page. As an enrolled member of the Potawatomi Nation, she uniquely exemplifies a crucial perspective on contemporary scientific practices and on the broader culture's interaction with the planet we all share. The Native American perspective is of particular local significance, as Tulsa County is comprised of the Muscogee, Cherokee, and Osage Nations."  — Angela Sivadon, Ph.D., TCC Senior VP & Chief Academic Officer
Book Resources, News & Events
Visit the Library Guides for print and electronic copies, information about the author, book resources, news, and events.
Library Guides
Past Books & FAQs
Designed to promote a deeper understanding of the human experience, the program's goal is to provide a shared experience to enhance civic engagement and build empathy while utilizing high-impact learning practices. Those practices include elements such as collaborative learning experiences, service-learning opportunities, and reflective writing assignments. The Common Book Program also incorporates themes of social responsibility as well as collaboration, inclusion, participation, and equity.
A common book program provides a shared foundation for students to engage with ideas and perspectives that can be very different from their own, leading to intellectual conversation and personal growth. — TCC President and CEO Leigh B. Goodson, Ph.D.
Book nominations and the final selection are part of a College-wide process. A committee of TCC faculty, staff and students review numerous books in an effort to select one that is relevant, combines the College's mission with community efforts, supports the goals of the Common Book Program, and which has broad applicability across disciplines.
Our common book program is embedded into the College Success course curriculum for first-time entering college students including all Tulsa Achieves students.
The Common Book Program is integrated into other courses across different disciplines that may vary semester to semester but have included:
Composition
History
Humanities
Literature
Philosophy
Political Science
Psychology
Reading
Sociology
The program also extends beyond the classroom with a series of events open to the public for discussion and learning.
Launched in Fall 2019 in response to a $81,000 grant from the National Endowment for the Humanities, the TCC Common Book Program contributes to classroom curriculum and co-curricular programming for all.