College classes are hard. At some point, everyone needs help.
You can do this. Our expert staff can help you with writing, reading, math, science, and languages. Get support from our tutors virtually and in-person for help when and where you need it.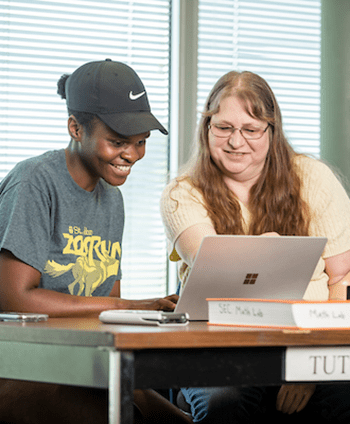 Tutoring Labs
Our friendly and skilled tutors are here to help you in our supportive and judgment-free tutoring labs. You can choose in-person or virtual sessions based on what works best for you and your schedule.
Subject Matter & Skill Areas
Accommodations for Students with Disabilities
If you need assistance with accommodations for your tutoring sessions due to a disability, please visit Accessibility Resources to apply for accommodations.
Specialized Tutoring for Registered AR Students
A deaf tutor is available to offer special tutoring services to all students registered with Accessibility Resources. 
Learn About Specialized Tutoring
Online Tutoring for After Hours & Weekends
Need help with your calculus homework late on a Sunday night? Are you working all night on an essay for your history class and have a question that can't wait until the next morning? You don't have to wait for a tutoring center to open on campus the next day. Online students at Tulsa Community College now have an additional option for tutoring help after hours and on the weekends.

Tutor.com
Tutor.com, a company that provides academically certified, live 24-7 support, offers tutoring in multiple subject areas to TCC's online students. In most subjects, you can get one-on-one homework help in minutes. Prefer to make an appointment so you can plan questions and prepare for an assignment? Want to leave a question and come back later for your online tutor's answer? No problem, they're very flexible.
How to Get Tutoring Help After Hours
To access tutoring services outside of office hours, log in to Blackboard. 
On the Institution Page, click on the Tools link on the left side of your screen. The Tools link is after the link you click on to access your courses. There you will find the tutoring.com icon.